We're all familiar with the saying "change is for the better". The same is true with project management.
We need to make sure that our project is up-to-date and can cope up with the fast-moving demands of the business environment, as well as, the web world. And, to meet such challenges, significant changes and transformation have to be done. Thankfully, there are management platforms out there that help make the task of supporting changes and transformation a seamless process.
However, finding the right platform to implement the transformation and change can be a daunting proposition. This is because only a handful of the management platforms is able to provide the needed capabilities – to carry out the transformation in a smooth manner. But, most of the platforms fit in either of the two categories: one that provides inadequate functionality, and the other one is too hard to handle.
Consequences Of Choosing the Wrong Platform
Not choosing the right platform for your project needs results in consuming too many resources than actually required – be it for content sharing, tracking whether new processes are able to accelerate production and so on. Also, you may end up investing more than required in utilizing the platform for completing the transformation.
What's more? There is a greater possibility that the management and/or employees may resist the change. In fact, based on an online survey, it was reported that, "70% of the attempts to make changes made by organizations fail", owing to insufficient resources, employee resistance, etc.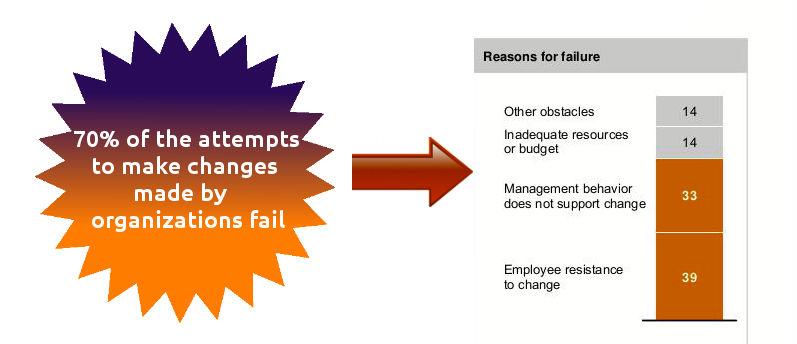 So, it is very important for you to pick the right platform that best suits your organization's needs.
Factors That Helps in Choosing The Right Platform
Below are a few factors that will help you in selecting the right platform to succeed in transforming the processes of your organization:
1. It must be flexible: The very first thing that you should pay attention to when choosing a platform is that if it is adaptable or not. Simply put, be sure that the platform is flexible and supports all the changes that need to be made to the organization.
For instance, you might be focusing on the supply chain management and a year later it might shift to logistics, and so your platform must be able to adapt to your changing needs without having impact on any of your processes. If not, then it is better to look for some other platform available in the online marketplace.
2. It must be user-friendly: The platform must be user-friendly, allowing users to easily make minor edits (if needed) to the initiatives of your organization. Also, they should be able to monitor (or track) the progress of initiatives which includes, design, task assignment, implementation, and other tasks.
Also, it is important that the platform is configured in the correct manner and captures only relevant information – and must avoid adding unnecessary nitty-gritty details; or else it will cause the workload to increase.
Besides, if the platform isn't user-friendly and isn't configured as per your needs, you won't be able to perform the tasks within the pre-determined time frame.
3. It must support new and ongoing initiatives: Another crucial aspect that you need to consider while selecting a platform is that it should be capable of supporting both new and ongoing improvements (even after the transformation program has been implemented).
Well, it's obvious, you'll look for a platform that is able to detect any issues, analyze their root causes, and can fix them. Most importantly, the platform must allow everyone to contribute their ideas to introduce improvements in the organizational system. Remember, the more people will contribute, the more better changes you'll be able to introduce into the system.
But, in case the platform doesn't provide room for engagement, then eventually people will go back to following old habits. For instance, each one may start creating their own spreadsheets.
4. Should ensure effective collaboration: With plenty of tasks being carried out in an organization simultaneously, involving tens of hundreds (or more) people, it is imperative to have a system that could lead to effective collaboration between team members. And, using the management platforms you can ensure proper coordination, allowing everyone associated with a project to access each and every detail regarding it.
For example, your team members can know about the availability of resources, or details regarding the new processes introduced in the system, and so on. This will help in increasing the work productivity, since everyone will have access to the same information at their fingertips. Furthermore, this will reduce the communication gap between team members.
Opting For Custom Platform Development
Undoubtedly, the above discussed factors will help you in choosing the right platform for your needs. Howbeit, wouldn't it be better if you can use a platform that is tailored according to your organization specific needs? You can do so by opting for custom development services of a recognized web development company.
Wondering why?
Every organization has different needs, ranging from the initiatives they're handling, to the number of employees, and so forth. And thus, having a platform that functions based on your exact needs will help in achieving your needs efficiently, as opposed to an existing management platform. Chances are that you may even need to customize the pre-built platform you're using to make it work according to your wants and needs.
So, if you want to save the efforts and money involved in customizing a platform, it is better to get your own custom platform built.
Conclusion
If you're running an organization or are a project manager, at some point of time, you may feel the need to introduce some changes and transformation in how your organizational system works. You may need to schedule your day-to-day tasks, improve collaboration between the team, track the progress of new processes and so much more. But, managing all such activities can be tricky and challenging (especially for a large size organization).
There are management systems out there that can help in performing all such tasks successfully carrying out the changes and transformation. In fact, you can learn about choosing the right platform reading the aforementioned key points. But, it would be better to opt for a custom platform instead.
(Are you finding our posts interesting for a while. Subscribe Now! And we will keep you updated with latest updates. And if you need any assistance with your custom development services, Contact Us today!)