Software Development Outsourcing activities have been prevalent since more than a decade now. In the past decade, organizations started realizing that they cannot do everything on their own and it is better to outsource the non-core activities rather than struggling to manage them in spite of lack of knowledge, expertise and resources. There are many advantages of hiring a software development company and outsourcing your IT work to them. Some of the most prominent benefits that attract organizations in developing countries for outsourcing their IT work to offshore locations are: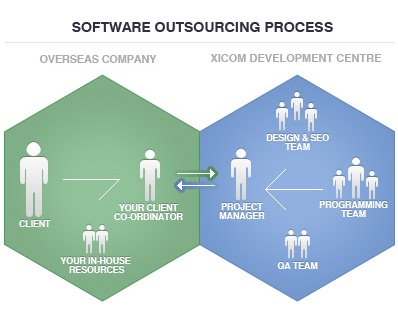 Cost savings: The most important factor that attracts organizations towards software development outsourcing is the cost benefits offered by it. Organizations save the money that would have been otherwise spent on infrastructure setup and employee hiring. Further, maintaining a development centre and the related resources is also very costly.
Quality solutions: A software development company can offer much better and reliable solutions compared to the in-house solutions. They have proper knowledge, experience and resources to complete the work in time and accurately.
Extra funds for core activities: By outsourcing their work, clients save a lot of money which can be invested in various core functions of the organizations and thus enhance their performance.
World-class technology: Developing software solutions is the core function of software development companies therefore it is mandatory for them to maintain a state of the art development center with all the latest and popular technologies. With these technologies they can deliver a highly reliable and unique solution that can help clients in boasting their performance.
Focus on core activities: By outsourcing their IT requirements organizations can save a lot of time and focus on their core business activities. With extra resources and time, organizations can perform much better and enhance their business.
There are many more benefits of hiring a software development company from offshore locations but the above mentioned ones are the most important ones. Today, software development outsourcing is a very common practice in organizations and businesses. This requires them to be very careful while hiring the software development company for their business requirements.