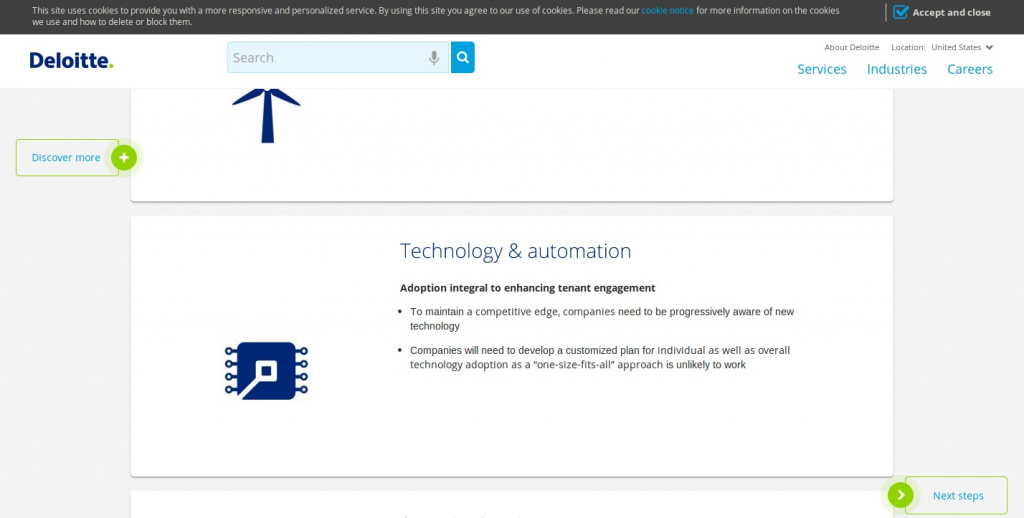 According to Deloitte report Technology and Automation will play a crucible for shaping up the real estate industry. From entertainment to business, technology aims to gain a strong foothold on various industries. Real estate is also one such venture where things are also heated up and the competition is on its verge to break into a rebellion. In it's incipient stages the technology is focused around listing services for the residential part of the real estate market. Eventually, it is paving ways for in the industrial sector and focusing on how this can change the industrial scenario.
For those in the technology world who have some grasp of the real estate business, this is a great opportunity to try their hands on. However, real estate business is one such sector of the economy which has single-handedly changed the monetary picture of any economy without any drastic change in the methodologies and workflow. Whereby, this is misunderstood by business owners as they think that not much is required in upgrading the online business or adopting new technology and automation tools will do no good.
Real estate: 'Prime of Primes'
The word "trillion" has become the nick name of real estate business when we talk about the asset class. As per the December 2014 reports of Federal Reserve, the asset class of the real estate business is worth $40 trillion in U.S. Itself.
In short, residential housing is estimated to be somewhat near to be $23 trillion, making it the largest U.S. Real estate asset. On the top of it, there is commercial real estate which is worth $ 15 trillion. This makes real estate as the stalwart of the U.S. Industry, over shadowing big industries like healthcare, equity and fixed income.
Find your real estate opportunities with us
Innovation being the middle name of IT, we know that there are various fields in real estate which are still unraveled and can be green pastures if handled with utmost attention. Developing highly competitive products in the industry, we know where to enter and how. Based on my teams experience in real estate business, i have figured out the best growth opportunities in the industry.
Let's find out:
Managing property:
Real estate business is obviously all about property management and hence various companies are competing to be the rulers in this domain. Property management software offer property owners and real estate management companies to supervise and track down their commercial assets. After analysis, it has been discovered that it's adoption in the industry is still up to 10 %. Wherefore, we have ample lot of space to establish ourselves here.
Real estate analytics:
IT has changed the way people use to do research in the real estate business. All that calculations and going on for demographic research to evaluate opportunities have now become obsolete.
Thanks to our data analysis! Now in order to evaluate investment opportunities you can simply go to the open data centers which are initiatives of municipality across countries. Further, we have needle threading and SaaS(software as a service) licences which binds the data with analytics to put forth the best investment options in front of you.
Online Brokerages:
The contemporary business owners of the residential market rely on advertisements for generating revenue. Apart from this there is another opportunity which aims at listing commercial services which can work as marketplaces. This can help in obliterating the relationship based model which still runs today.
Mobilize the real estate with next gen mobile apps:
As we are well aware of the fact that real estate business owners  are highly mobile, obviously because of their job role. Landlords, appraisers and brokers all keep on moving from one property to another. Moreover, with the advent of smartphones, tablets and phablets they can easily stay updated. Wherefore, desktop applications are no longer in, as people in real estate prefer mobile devices, as they suffice their job.
Bifurcation in lending:
When it comes to real estate lending is something which is very prominent. Further, a lot of avenues have opened up with the advancement in technology. We can see a lot of new entrants targeting lending in numerous ways. As both the forms of lending are have selling points of their own kind, thus a lot of competition will be seen in the coming future.
Innovation in technology can certainly help us to cover up the unfathomable distance in the real estate world. However, keeping in mind the money at stake and the wide portion of economy the business affects this seems to be an uphill task. Keeping in mind the billion dollar fruits it will bore after its successful execution the industry; it needs to be captured very soon before it's too late. Technology and automation is all set to get real state industry in its clutches. Now let's see what future has in store.