The ardent android community from all over the world was in for another amusing surprise as Google made the name of its latest version of Android Operating System public knowledge. The brand new Android OS is going to be known as – wait for it – not Key Lime Pie but KitKat! Yes the same KitKat which we have loved munching over all of our childhood.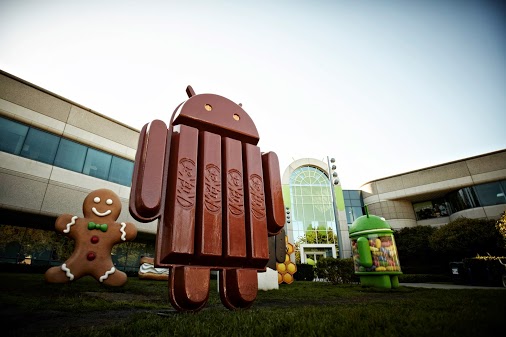 Although it was fervently rumored that the new version will be named Key Lime Pie, but ultimately KitKat got the cake. Sundar Pichai, an executive of Google confirmed the same with the post on the company's official page on Google Plus. KitKat is a famous wafer chocolate which is owned by Hershey in the U.S. and by Nestle in the rest of the world. Although nothing has been revealed about the partnership between the two brands, it has been divulged though that no money have been exchanged in this process.
Just a sweet tooth obsession or cross platform marketing?
We know it is not just us who have notices the alphabetical succession and sweet tooth dessert obsession of Google in naming the different versions of their Android OS systems, but KitKat merely an addition to Cupcake, Donut, Eclair, Froyo, Gingerbread, Honeycomb, Ice Cream Sandwich, and Jelly Bean or is there something more underneath the skin? While a major chunk of online community is rather amused at the choice of the name, others are able to sense the symbiosis and cross platform marketing of this latest development.
The new KitKat cover carries the green colored android mascot of the latest OS, along with the marketing message to win either a gift card or Google Nexus 7 tablet. This comes in addition to the fact that a new AndroidKitKat statue is now installed in the premises of Google. Pichai confirmed the same in his post as he wrote,
"On my return from Asia, I was also thrilled to find this guy waiting to greet me on the front lawn — love the new #AndroidKitKat statue and can't wait to release the next version of the platform that is as sweet as the candy bar that's one of our team's favorites :)."
Pichai also took this opportunity to announce that the company has surpassed the one billion mark of activating Android Devices.
So what do you feel about this latest buzz in the field of Android OS Development? Are you excited about the new features? What do you think about this name anyway? Let us know your opinions about this update in the comments section below. We await your comments.
Image Source Sundar Pichai/Google+
For the latest technology news and reviews, like us on Facebook or follow us on Twitter . If you need any assistance for your WordPress development requirement,  Contact us to  get in touch with our expert Android developers and get expert solutions today!