Just as you thought there couldn't be anything better than the present state of content management, Automattic is ready to swipe you off your feet with its new release. The company responsible for the inception of world's most famous CMS and blogging platform WordPress.com has recently announced the release of WordPress.com Enterprise, their latest paid service. This hosted service is all set to offer users with fantastic features comparable to those of WordPress.com VIP at just a monthly rental of $500 per site. The Enterprise service has an upper hand as compared to VIP service, which comes with a price tag of $3750 per month for hosting of up to 5 websites. The Enterprise service has simplified things for users who just need to host a single website.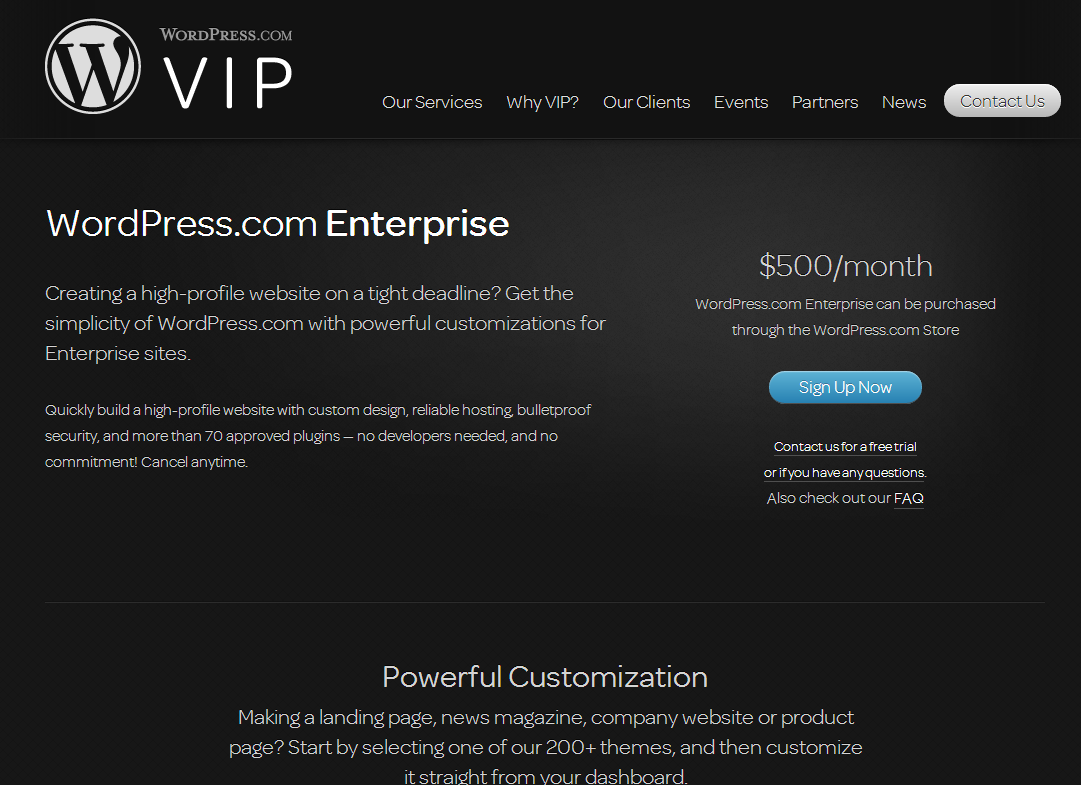 This service, according to Automattic, is mainly targeted to serve businesses and brands that are looking for WordPress theme customization and development solutions that can handle high traffic inflow, can host rich media content including photos and videos and is optimized for tablets and mobiles. Currently brands like the 4-Hour Chef, ESPN Digital, Moonfrye.com and JackThreads are already the Enterprise service.
The Enterprise service comes with numerous features. As per Automattic, WordPress.com's ability to handle any amount of traffic influx, the freedom of customization given to users, the white glove support services and the web analytics of the company are a few reasons that are likely to lure customers to this new launch from WordPress.com. Just as in the case of VIP, the users of Enterprise will also get the advantage of unlimited storage, bandwidth and traffic.
Some other key features of WordPress .com Enterprise are as follows:
Scalability: WordPress.com ensures that sites have impressive uptime and can handle hundreds and millions of page views per day.
Mobile and Social Integration: All sites built using the Enterprise service on WordPress.com will be optimized to be viewed on tablets and mobile phones. Also, the sites can be integrated with all major social media platforms such as Twitter, Facebook, LinkedIn and Tumblr with just one click, using the Publicize feature.
Advertising: Using the Enterprise service, businesses will be able to run any advertising campaign of their choice on their website.
Support: Powered by white glove support services, the team at Enterprise will help you with any issues that you may face during the course of developing websites.
Target Audience Engagement: Enterprise service let's you know your audience closely. You can get an idea of where your primary audience hails from and how did they get to know about your website.
There are graphs and maps in the Enterprise service that lets you keep an eye on the statistics. Moreover, you can easily add Google Analytics to manage your website traffic effectively. There are innumerable benefits of using the new WordPress.com Enterprise service, especially for top notch brands and business organizations. They can easily customize web solutions without the need to hire WordPress developers. Just $500 per month and their WordPress site is ready to mark their presence on the World Wide Web.
Image Source – http://vip.wordpress.com/enterprise/